Electric bike motors
have come a long way since they first appeared. There are a variety of motors on the market today and they differ based on the type of electric bicycle they are fitted to. Depending on the manufacturer, the motors range in power output and price.
The basic difference between a direct drive motor and a hub motor is that the former does not interact with the chain, whereas the latter does. This means that a direct drive electric bike motor will have less freewheeling ability. Regardless of the type of motor that you choose, there are a few things that you should know about it before you buy.
The most basic electric bike motor is a direct-drive motor. These are the cheapest to purchase, but they also are the least efficient. They are best for riding on flat pavement. If you are considering buying an ebike, the best way to determine the performance of an ebike motor is to test ride it.
Another type of motor is a mid-drive motor. Mid-drive motors are located between the cranks of the ebike. In this type of system, a gear-reduction system is used to make the pedaling more effective. Because of this, the motor contributes to the natural power output of the bicycle. Most mid-drive systems have sensors that shut down the motor when the bike is not in a gear.
A third type of ebike motor is a gearless motor. These motors are cheapest to purchase, but they don't have as much torque as a hub motor. While this means that they are best for cycling on flat pavement, they aren't ideal for full-suspension bikes. Gearless motors have a lot of potential for coasting, but their limited torque and speed mean they aren't suitable for heavy off-roaders.
One of the newest types of electric bike motors is a mid-drive motor. It uses two rings of magnets to produce torque. Although these motors can be as simple as those that are used on scooters, they are more advanced and require the right gearing to operate properly.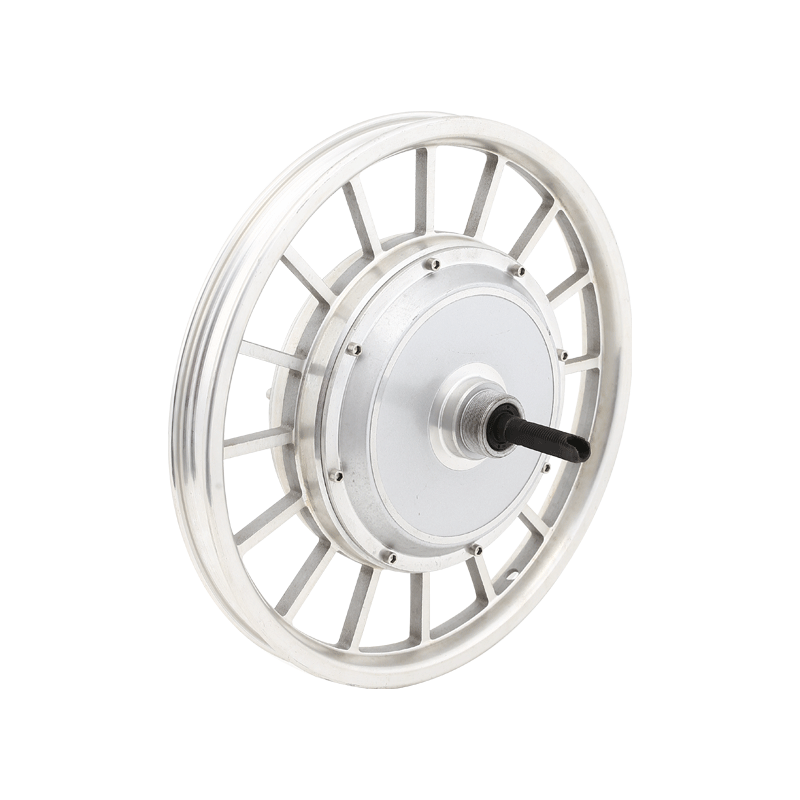 The electric bicycle front wheel conversion kit adopts a hub motor with voltage: 36V-60V, power: 250W-500W, which can achieve high-efficiency and noise-free operation; it can easily convert your bicycle into an electric bicycle, and reach its speed of 250R-400R, It is suitable for ordinary bicycles and mountain bikes for commuting and short-distance travel. The aluminum alloy frame is durable and stable. You can choose the brakes you need to use with the wheels. It is very suitable for bicycle assembly and modification.