Whether you're in the market for an electric scooter or you're just considering getting one, it's important to understand what you're buying and how it works. A good understanding of how electric scooter motors work can save you money and ensure that you're getting the best model for your needs. Here are a few things to consider:
Peak power is the highest amount of power the motor can produce in a short period of time. It's also important to understand that it doesn't always mean the same thing as real power. Real power is the motor's ability to produce energy in a continuous manner.
The power of a motor is a function of many factors, including how much power it is able to produce and how much energy it needs to operate. A more powerful motor will have higher acceleration, better climbing angles and a higher top speed. These qualities make the motor a valuable asset to own.
The motor controller is what is responsible for supplying the motor with the power it needs. When the user presses the throttle, the motor controller will send a signal to the motor to start generating power. The controller then works to maintain optimal speed.
The most important metric to look for in an
electric scooter motor
is its power output. This can be determined by multiplying the motor's voltage by its current. The higher the voltage, the higher the power output.
There are several factors that can influence the amount of power a motor produces, including its temperature and the external environment. When a motor is overheated, it becomes less efficient and less powerful. In a perfect world, the motor would produce more power in the same amount of time.
The motor is also measured by its rotations per minute (RPM). A motor's RPM is not always related to power, but it's one of the more useful measures of its performance. It's also a good measure of motor quality.
Another metric is torque. Torque is a measure of the twisting force that is needed to rotate a wheel. Torque is typically measured in Newton-meters (Nm) and pound-foot units.
In the scooter industry, the motor's power is usually expressed in watts. A watt is defined as the amount of power used per second. A high wattage motor will require larger batteries and can carry more weight. The more power a motor can produce, the more torque it will produce. A higher torque means that it can perform better in all environments.
When choosing an electric scooter, consider a model with a higher watt rating. This will allow you to climb hills at higher speeds. It will also allow you to carry more weight and ride over steeper slopes. It's also a good idea to get a model with a regenerative braking feature. The regenerative braking feature helps to recapture energy that would otherwise be lost when the scooter hits an obstacle.
A hub motor is one of the most common types of electric scooter motors. These motors are embedded within the wheels and are usually less powerful than a gearless motor.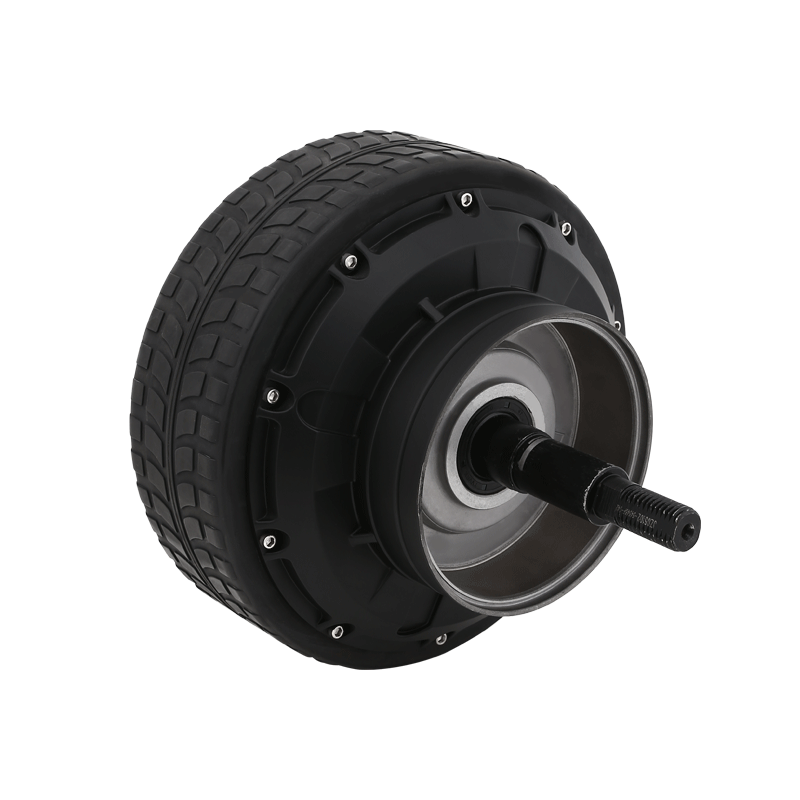 Voltage:48V
Power:300W-1000W
Speed:150R-400R
Assembly opening:Bilateral axis, unilateral axis
The wheel type:Integrated with rubber wheel
The advantages:
1. The protection level is high, the efficiency is high, and the reliability is strong.
2. It is cost-effective and has a large starting torque.
3. Long life, easy maintenance, simple structure and low noise.
4. The motor end cover and base are made of aluminum alloy structure, which is small in size and light in weight.
5. Stepless speed regulation, strong overload capacity.
6. The structure is compact and the power density is high.