Unlike an ordinary engine or a geared motor, a hub motor is an integral part of the wheels of a vehicle. It is a mechanically simpler way of turning stored electricity into motive power. It connects to the chassis of a car and provides four-wheel drive automatically. In theory, the right wheels turn one way and the left wheels turn the other way, thereby giving the car a near-zero turning radius.
Hub motors
are used on e-bikes, e-folders, and ultra-low maintenance e-bikes. They are also used on electric vehicles like cars. However, they are expensive, especially if they are to be used in a four-wheel drive vehicle. Moreover, the hub motors are susceptible to high-speed impacts from rocks and potholes, and must be able to survive extremes of temperature.
A hub motor is a high-torque motor that has its own internal gearboxes. The gearboxes are made from planetary gears and a stator. Internal gearboxes add weight and mechanical complexity to the vehicle, but can help boost torque.
Hub motors are available as permanent-magnet synchronous or six-phase versions. The six-phase version has a very high torque. Its power is split into two independent three-phase subsystems. In the case of a failure, the two subsystems can power the wheel.
Hub motors have a large unsprung weight, which can cause poor handling and shock. They are also more difficult to maintain than a conventional engine or a geared motor. Hub motors are also susceptible to water and road dirt.
The electric bike hub motor looks like a brushless motor from a PC cooling fan. It has thick copper coils of wire that convert electricity from the battery into movement. The electric bike hub motor also contains a control unit. It is also protected by a shaft seal. 
The hub motor is also available in gearless versions. These motors have no moving parts. They are also very lightweight. They also last longer than geared hub motors. In fact, they are often used on city bikes.
The main advantage of a hub motor is that it can be mounted on either wheel of a vehicle, which can make it easier to change tubes. The weight of the motor is less than an ordinary engine or a geared motor, and it provides four-wheel drive automatically. Moreover, hub motors are cheaper than a mid-drive motor. A hub motor is easier to install than a mid-drive. It can also be retrofitted to an existing car. In addition, it is easier to run hub motors on rechargeable batteries.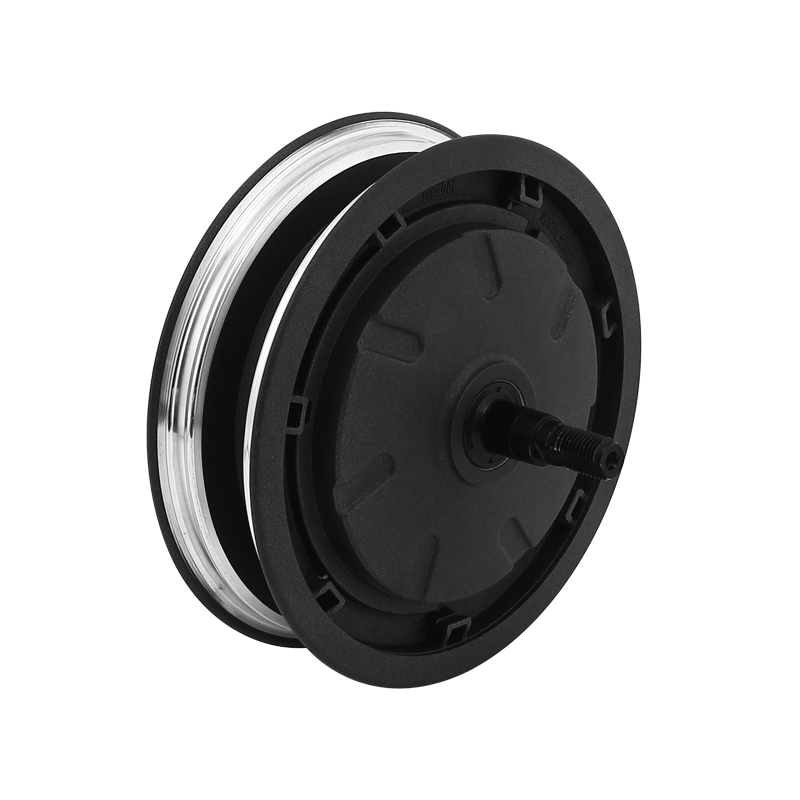 Voltage:36V-48V
power:200W-400W
speed:200R-500R
The wheel type:Aluminum wheel
A pure electric vehicle motor is a speed-regulated drive system composed of an AC motor and its matching controller. The AC motor refers to the AC asynchronous traction motor, which is driven by the rotating magnetic field to rotate the rotor. The structure is simple, the reliability is strong, the driving circuit is also simple and reliable, and the efficiency is high. Compared with rare earth permanent magnet motors, permanent magnet motors are expensive, and some of the comprehensive prices are twice that of AC asynchronous motors. Especially once electric vehicles become popular and rare earth resources are in short supply, the price will skyrocket, making electric vehicles very uneconomical and affecting the development of electric vehicles. Popularization: There are also complex driving circuits, poor reliability, and difficult heat dissipation, which makes the actual efficiency inferior to AC asynchronous motors; rare earth permanent magnet motors are usually water-cooled, which makes the power structure complex and the cost increases. In contrast, the advantages of AC motors are very obvious.