Motor is the heart of any electric vehicle, so it's important that you choose a model with the right design and specifications. This will ensure that you get the best possible performance from your new electric two-wheeler, as well as the lowest total cost of ownership.
The basic parts of an electric two-wheeler include a battery, an alternator, an
electric two-wheeler motor
and an electrical system. The battery stores energy for the motor, which converts the electricity into mechanical power to drive the wheels and handlebars. The alternator charges the battery during use and recharges it when needed, maintaining a consistent voltage level while in operation.
Batteries are a critical part of an electric scooter or bike's powertrain, and they are available in a variety of different chemistry types. Among the most popular are lithium-ion and lead-acid batteries, but some companies are moving away from these traditional materials in favor of more efficient alternatives.
Lithium-ion batteries are also easier to replace if they get damaged, which means that the maintenance cost will be much lower than with a lead-acid battery. Some brands, such as Evolet and Ampere, have launched models that offer both lithium-ion and lead-acid battery options.
Brushless DC Motors
BLDC motors are typically found in higher-quality electric scooters and bikes. These motors are designed to run more efficiently, have better power-to-weight ratios and are typically quieter. They are also less likely to overheat, and can be more durable than brushed DC motors.
The winding constant of a BLDC motor is usually a number that represents how many revolutions per second (RPS) the motor can spin at a given voltage. For example, a 12V BLDC motor will spin at 120 RPM; a 24V motor will spin at 240 RPM and a 36V motor will spin at 360 RPM.
Motor Watts/Watt-Rating – The watt rating of an electric scooter's motor indicates how much electrical power the motor can consume in a given amount of time. This rating is often accompanied by a continuous power rating, which indicates the amount of mechanical power that the motor can produce over time.
Torque - Measured in Newton-meters (Nm), torque is the twisting force that causes your electric scooter to turn the wheel. It's a good indication of how smoothly the scooter will pick up speed and accelerate.
Manufacturers don't typically provide torque output specifications for their motors, but you can estimate them by dividing the motor's peak power output by its max revolutions per second. A higher peak torque rating will allow your scooter to accelerate faster and climb hills with greater ease.
A high motor watt-rating will also make it easier for your scooter to accelerate quickly and carry more weight, so be sure to find one with a high watt-rating that suits your riding style.
It's also worth noting that while motor watts are a good way to determine an electric scooter's potential, they don't tell you the full story about its efficiency. Some manufacturers don't even report the motor's overall efficiency, which is why it can be hard to judge a motor's performance when you look at its watt-rating alone.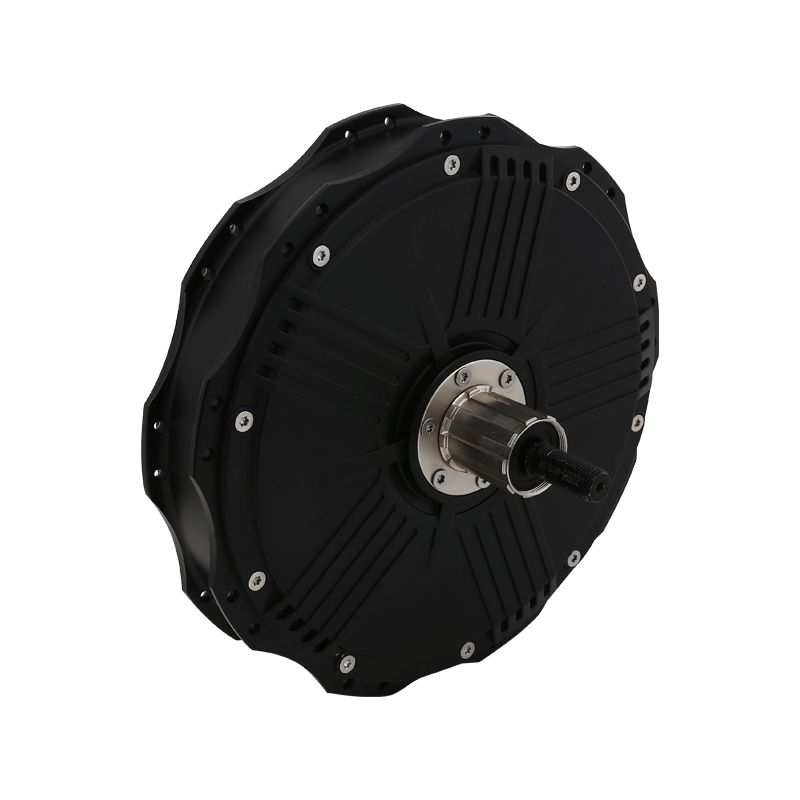 The wheels have integrated spokes for a more stable, firm and comfortable ride. The outer tube is made of aluminum alloy, which is durable and lightweight. Easy to assemble and disassemble for cleaning or replace with new ones. Such an electric bike can provide you with a smooth riding experience. High efficiency, energy saving, light weight and small size. This product adopts DC motor with reasonable price, large torque, quiet and reliable. The power can be adjusted according to your needs using the gas pedal on the handlebar. Electric bicycle base motor RH, the voltage is 36V-60V, the power is 350W-800W, the speed is 300R-470R, the spoke and the wheel are integrated (36 holes), and the assembly opening is 135mm. Two-wheel motor.
Voltage:36V-60V
Power:350W-800W
Speed:300R-470R
The wheel type:Spokes are integral to the wheel(36 holes)
Assembly opening:135mm
Two wheel motor