An
electric two-wheeler Motor
is a new generation of two wheeler that offers a sustainable, environment-friendly way to get around. It's ideal for commuting and also a great alternative for long trips when you don't want to pay extra for fuel.
Choosing an e-bike is not a difficult task, as there are many brands and models available in the market. But before you finalize your choice, there are some important factors that you should consider.
1. Type of Battery - Most recent electric two-wheelers come with Lithium-Ion batteries which are much more efficient and longer lasting than earlier lead-acid batteries. In addition, lead-acid batteries are no longer eligible for FAME 2 incentives. Hence, Lithium-Ion batteries are becoming the most preferred option by e-bike buyers in India.
2. Range - An e-bike's maximum range is an important factor to consider when purchasing a new one. Depending on your usage, you may prefer a bike with a higher or lower range. Whether you're looking for an e-bike to commute to work, or you need one to take your family on vacations or to the beach, it's essential to find an e-bike that can handle all your needs and provide the best riding experience possible.
3. Motor - The motor is one of the most important parts of your e-bike and it is important to choose a good quality motor that can deliver the kind of performance you need. It must be able to deliver high power and torque at the right RPMs. This ensures that you'll have a smooth ride with less hassle.
4. Torque - The torque is the twisting force created by your e-bike's motor and is given in units of Newton meters (Nm), or pound-foot for countries using imperial measurements. The motor's torque is the main difference between an electric bike and a normal bike, as it helps you to turn the wheel faster.
5. Type of Motor - The most common types of electric scooters have one or two hub motors located within the wheel hub(s). These types are lightweight, simple, and easy to maintain because they don't require any complex internal structures.They are usually the cheapest and most effective scooters to buy. They offer a good value for money and are easy to repair in case of any issues.Besides, hub motors are relatively inexpensive, and they are simple to manufacture. Consequently, they are commonly used in the cheapest electric scooters.
6. Brushless DC Motor - Another popular type of e-bike motor is the brushless DC (BLDC) part. These parts are maintenance-free and have a high starting torque. They are also cheaper and can withstand rough environmental conditions better than the brushed ones.
These parts are found in most of the latest scooters, and they have a number of benefits over brushed motors. They offer more power, have a smoother acceleration, and can be controlled via the electronic speed control system. They are also more durable than brushed motors and are easier to repair if there is a problem with them. They can also be fitted with regenerative brakes to help you regain lost energy when you stop.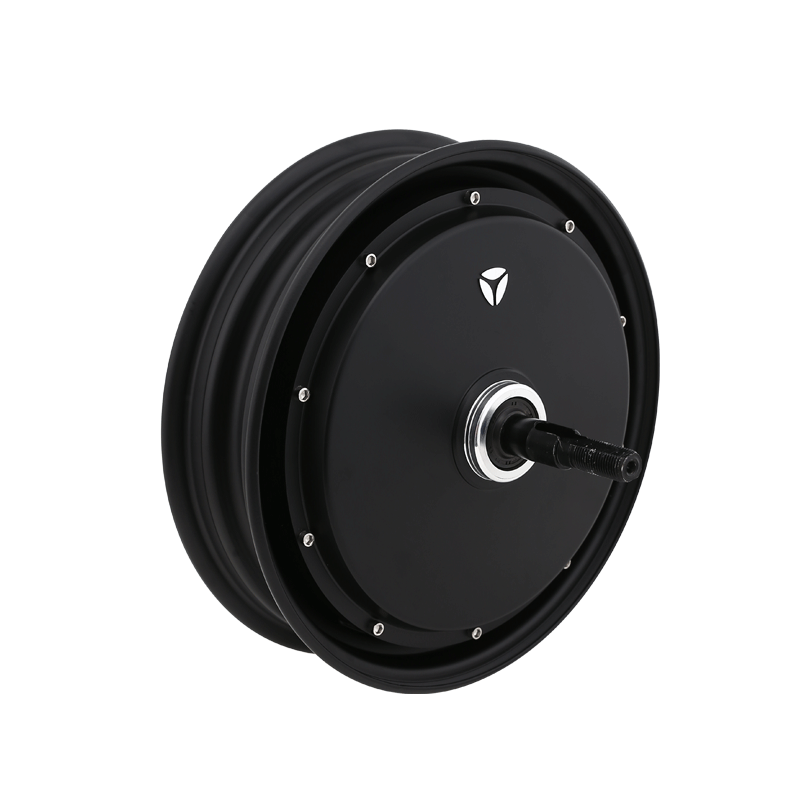 Electric motorcycle motors are the most economical, fast and elegant way to commute in the city. Its advanced design makes the motor immune to interference and has strong protection against lightning strikes and electromagnetic pollution. You don't have to worry about buying gasoline every time or running out of battery because this electric motorcycle motor lasts a long time and has high energy conversion efficiency. The 10 inch electric motorcycle motor is a very powerful and high speed bike racer. Its light weight and powerful motor make it perfect for extreme off-roading, delivering the power, speed and control you need. A full range of 48V-96V motor generators offering a range from 500W to 1500W, standard shaft size MT2.15.
Voltage:48V-96V
Power:500W-1500W
Speed:450R-650R
The wheel type:10×MT2.15
Two wheel motor