In recent years, electric scooters have become increasingly popular as a mode of transportation in cities around the world. With their lightweight and compact design, they offer a convenient and eco-friendly way to get around congested urban areas. However, it is the electric scooter motor that has truly revolutionized this form of transportation, making it faster, more efficient, and more accessible than ever before.
The
electric scooter motor
is essentially an electric motor that powers the scooter's wheels. Unlike traditional gasoline-powered engines, electric motors are quieter, more efficient, and produce zero emissions. This makes them an ideal choice for urban transportation, where air pollution and noise pollution are major concerns.
One of the key advantages of electric scooter motors is their low maintenance requirements. Unlike gas-powered engines, they have far fewer moving parts, which means they are less likely to break down or require costly repairs. This makes electric scooters an excellent choice for people who want a low-maintenance and reliable mode of transportation.
Another benefit of electric scooter motors is their excellent acceleration and speed. Most electric scooters are capable of reaching speeds of up to 25 miles per hour, which is more than sufficient for most urban commuting needs. They also have excellent acceleration, which means they can easily navigate through traffic and get up to speed quickly.
Perhaps the biggest advantage of electric scooter motors, however, is their affordability. Electric scooters are far cheaper to operate than gasoline-powered vehicles, as they require no fuel and have much lower maintenance costs. This makes them an excellent choice for people who want an eco-friendly and cost-effective mode of transportation.
Of course, there are some limitations to electric scooter motors as well. For one thing, they are not as powerful as gas-powered engines, which means they may not be suitable for long-distance trips or heavy-duty use. They also have limited range, typically around 20-30 miles per charge, which means they may not be suitable for people with longer commutes.
Despite these limitations, however, electric scooter motors are quickly becoming a popular choice for urban transportation. With their low cost, low maintenance requirements, and eco-friendly design, they offer an excellent alternative to traditional gas-powered vehicles. As technology continues to improve, we can expect to see even more advanced electric scooter motors that offer even greater speed, power, and range.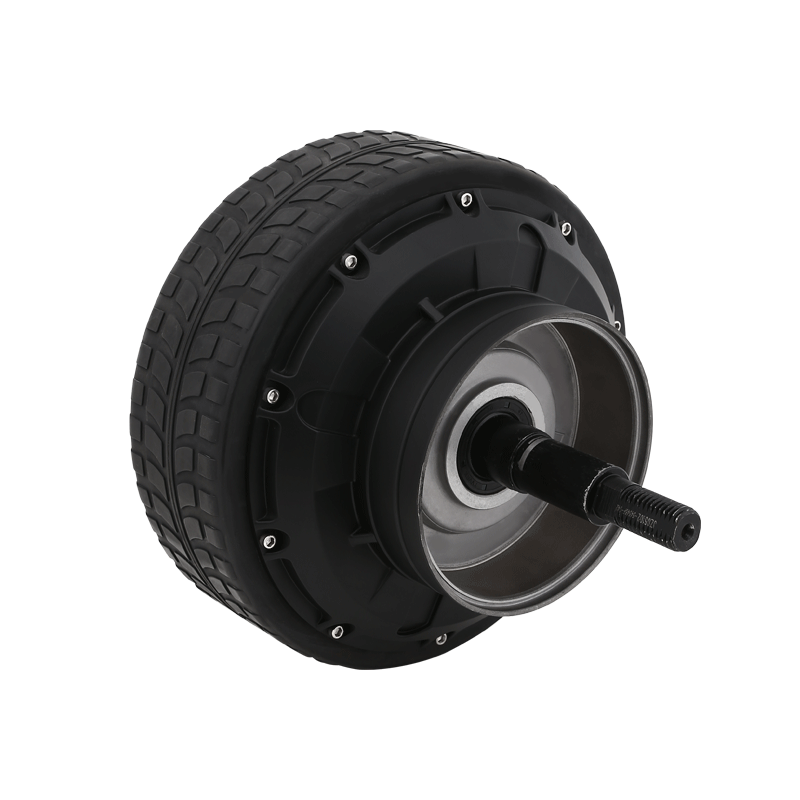 The 10" drive motor of the scrubber is produced with integrated rubber wheels. It is a full-time motor high-speed rotating scrubber. The rubber wheels are easy to clean and clean the floor thoroughly. The special design of the integrated rubber wheels ensures product stability and Durability. The 10" scrubber drive motor has large torque, high speed, low power consumption, small size and light weight. The drive motor can be equipped with a double-sided shaft or a single-sided shaft, which can be customized according to customer needs. It is suitable for washing floors in places where automatic drainage is required, such as cars and trains, without maintenance. It also performs very well in floor polishing.
Voltage:48V
Power:300W-1000W
Speed:150R-400R
Assembly opening:Bilateral axis, unilateral axis
The wheel type:Integrated with rubber wheel